Two amazing acrobatic conventions are happening this year! Places to share and delvelope your skills in acrobatics and related disciplines!
Halle Acro Convention: June 21 – June 24
Join us for the first acrobatic convention in Halle! We are more than excited to share the news with you and looking forward to the training time together! Come and share the acrobatic energy with 34 other acrobats during the 21st -24th of June '18. This event will be cameral, cozy, with a strong intention to keep the price and costs as low as possible and give a lot of space for workshops as well as open trainings. Thanks to the size of the event there will be an opportunity to connect better to our fellow acrobats and keep the family energy. It will be also possible to remember all of the names – when was the last time you were at a convention when that was possible!? 😉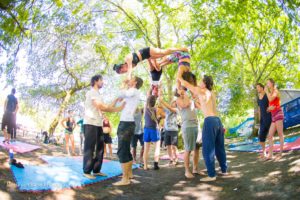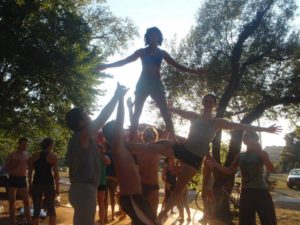 The convention will be hosted by GutAlaune, a growing artist and creative community of 10 big and 5 small humans. It's located on the hill, just outside Halle (Saale) in Germany, right next to the river and surrounded by nature. Parts of the place are still a bit improvised but it is abundant in charm and feel-good -energy. For the training space we have a basic circus tent and two outside training spaces with longes and puzzle mats. We offer a bike-borrowing option for those who'd like to visit the nearby hills, meadows, forests or city! Sleeping – in your tent. Shower – outside. With curtains 😉

Teachers for this convention will be announced soon.
Do YOU have an experience as a teacher and would like to contribute this way to the event? Write to us and share your idea what and how much you would like to teach: jonglirium@gmail.com.
Teachers will get 20 € per workshop (If teaching as a team, the maximum discount is 40 € per workshop).
Costs of participation: 120 EUR
Price includes:
– two vegetarian/vegan meals per day cooked by our cook and a DIY breakfast buffet
– a contribution to the space (fascilities, water, power, outside shower and donation for the eco-community)
– ten workshops and guided yoga/handstands/warmups
– tent space (if you want to come by van please contact us)
We have space for two longes and puzzle mats to make the training possible on all levels.
The event has a non commercial character and we would like to offer you the lowest price possible so that everyone can join, no matter the financial situation. If you would like to pay less, we offer a few helpers jobs (building up and down), as well as teaching jobs, so you can get discounts and refunds and make the convention more affordable.
Since it's a "do it yourself" kind of event we will ask all participants to share the care jobs such as cleaning, cutting veggies, helping with building up/down etc. Please write to us for more information.
REGISTRATION IS OPEN HERE: https://jonglirium.typeform.com/to/LQ034P
Bosnian Acro Convention: August 25 – September 2
Join the 6th AcroConvention this summer in Krupa na Vrbasu, from saturday the 25th of August till sunday the 2nd of September!
7 days of workshops with well known trainers from the Netherlands (Paul Griffioen and Noel Spauwen tbc) and with Acrology 🙂
All level accepted, two workshops in parallel in the morning and the afternoon with different techniques (icarian, banquine, handstands, portee, hand to hand etc) and free open workshops by the participants (you?!) to share skills (tissue, trapeze, juggling, slackline…) possible!
Come and join us, even if you are a beginner!
Families and kids welcome – the surroundings of Krupa are beautiful – a lot of possibilities for hiking, swimming, and climbing ! 🙂

Check: http://cirkusbanjaluka.wordpress.com/ for updates and pictures from previous years !
Price – early bird (until 25.03.2018)
– 200 euros for EU participants
– 100euros for Ex Yu participants
Included :
7 days of workshops
3 meals a day (vegetarian food) from the 25th dinner until the 2d breakfast
your camping place (bring your own tent!)
Possibility for sleeping at a local homestay – ask us!
Register at https://tinyurl.com/yar7vmsa
All information and question at cirkus.banjaluka@gmail.com
Registration open here!