Meet some of the key members of the team:
TYLE FERNÁNDEZ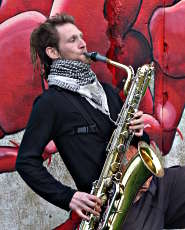 tyle is a nomadic musician and stilt performer. Born in 1978 in San Francisco, he grew up on US colonies in Germany and Japan, but as an adult rebel clown, he values anarchy, trans-feminism and community. He travelled extensively with antagon theaterAKTion and other performance groups before insisting on building tallbikes for the many 2wheels4change journeys. Finally trying to settle, he's helping to create a community in Can Bee near Barcelona, while touring with musical groups, teaching music and theater at summer camps and organizing ERASMUS+ youth exchanges in Germany and Catalunya.
FELIX FISCHER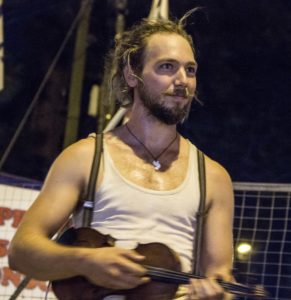 People call me Felix and I love connecting people into collective and artistic projects and processes. With friends and colleagues I started this NGO to support social circus music and theatre around the globe… and our network of performers, artists and pedagogues is alive and kicking. I studied circus and special needs education (specialising in challenging behaviour and mental disability) at the Humboldt University (Berlin) and am very greatfull for a meaningful chance to combine my skills into projects that create opportunities and broaden horizons for everyone involved. I am a passionate acrobat & musician performing with the FourStringCompany.
Also we started a beautiful project space in the nature in Halle (Saale), East Germany in 2016 – hosting some amazing trainings, workshops and events there.
VICTOR SANCHEZ HEREDERO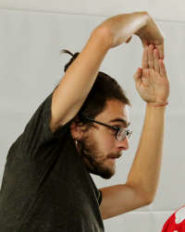 Víctor is an acrobat, musician and cyr wheel performer from Madrid who has been involved in social education since 2008. He studied circus performance and social circus in Barcelona.