10 Tage Partnerakrobatik, Performance Creation, Collective Improvisation und verwandte Zirkusdisziplinen.ren:
19th July – 30 th July 2023, Halle (Saale) Germany

Das Training und die Beschreibung sind auf Englisch – kontaktiert uns wenn ihr Fragen habt.
A 10-day exploration & show creation with partner acrobatics, collective improvisation and circus related disciplines: 19th (Arrival) July – 30th July (Departure) 2023, Halle (Saale) Germany
Who?
Calling for 3-4 participants per country from Sweden, Poland, Slovenia, France, Germany, Italy & Spain! Application at the bottom of the post!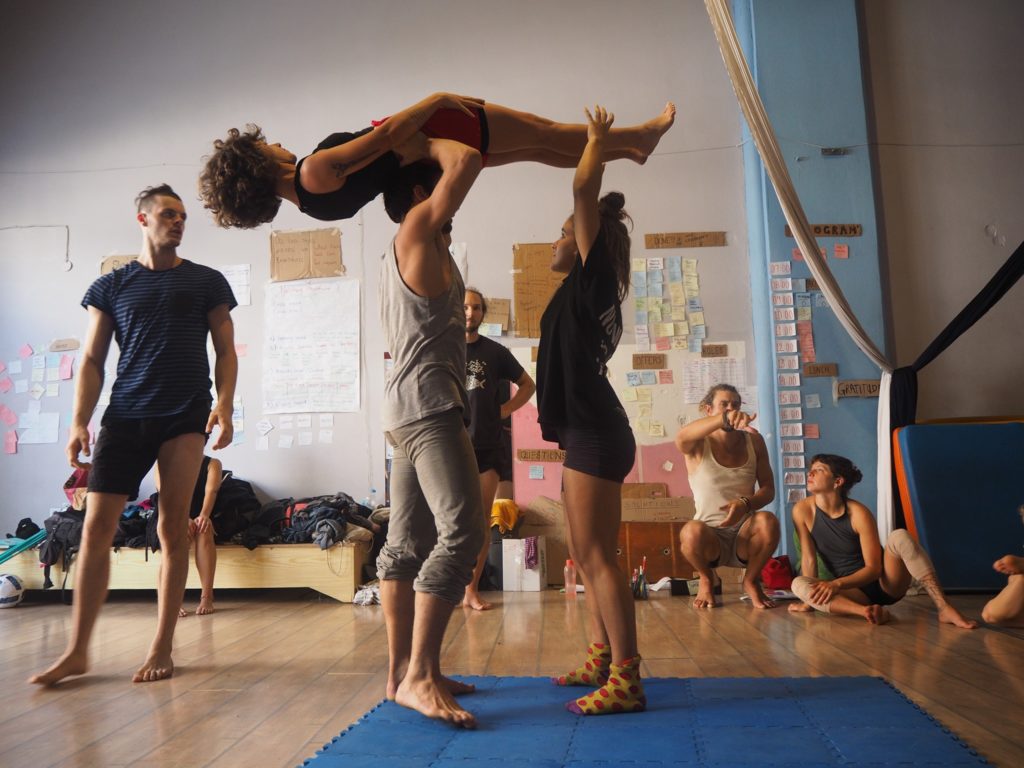 What?
During the project & the collective show creation we aim to explore how partner acrobatics, stage presence, collective improvisation and circus related disciplines can contribute to the empowerment of disadvantaged groups. We aim to involve youth workers and artists from various parts of Europe as well as local residents into this collaborative experience and show creation. We've prepared input from partner acrobatics, physical theatre, group improvisation, social circus, handstand, dance and floorwork. Through exploration of movement, performance and play we will develop skills which are extremely valuable when working with disadvantaged youth.
We're looking to create a training group with trustfull connection & mutual support and ask everyone involved to take part as much as possible to support each other in each session. Together we will create a daily shedule that will incorporate the interests and needs of the participants. There will be also free time to do whatever together (there a 3 kajaks, lots of bikes and a beautifull surrounding with hills, lakes and cliffs to climb). We have space for guests, sleeping in tents on GutAlaune – the space where we will live and work together. Also there is a childcare so it is possible to come with your kid/s.
To share the workload, like cleaning and helping the cook, we will divide tasks among ouselves.
TRAINERS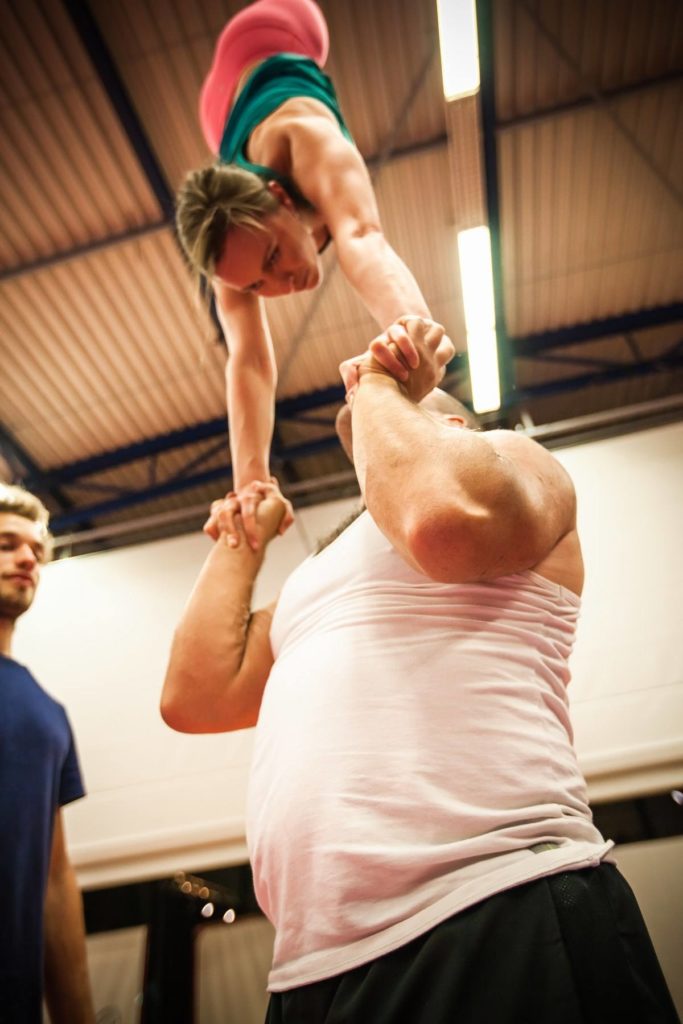 Marta is a handstand, yoga and acroyoga teacher, with 11 years of experience in partner acrobatics. She discovered yoga in 2011 and that brought her later to handstands and acroyoga. Her life changed completely once she abandoned her sprouting legal career and decided to commit to the teaching practice, which has been bringing her joy and opportunity to connect to people and share her passions. She has been teaching movement for a few years continuously and what's most important for her is motivating people to move their bodies and minds and find their own practices which make them happy. She believes it's possible to make dreams come true if we really believe in them and work hard to make them happen. Marta is an active vinyasa yoga teacher, AcroYoga pioneer in Poland and creator of the learning platform www.HandstandWorks.com which offers an online handstand training. She owns a yoga studio wildcatyoga.de and just started a sustainable, ayurvedic yoga tools brand maggayoga.eu.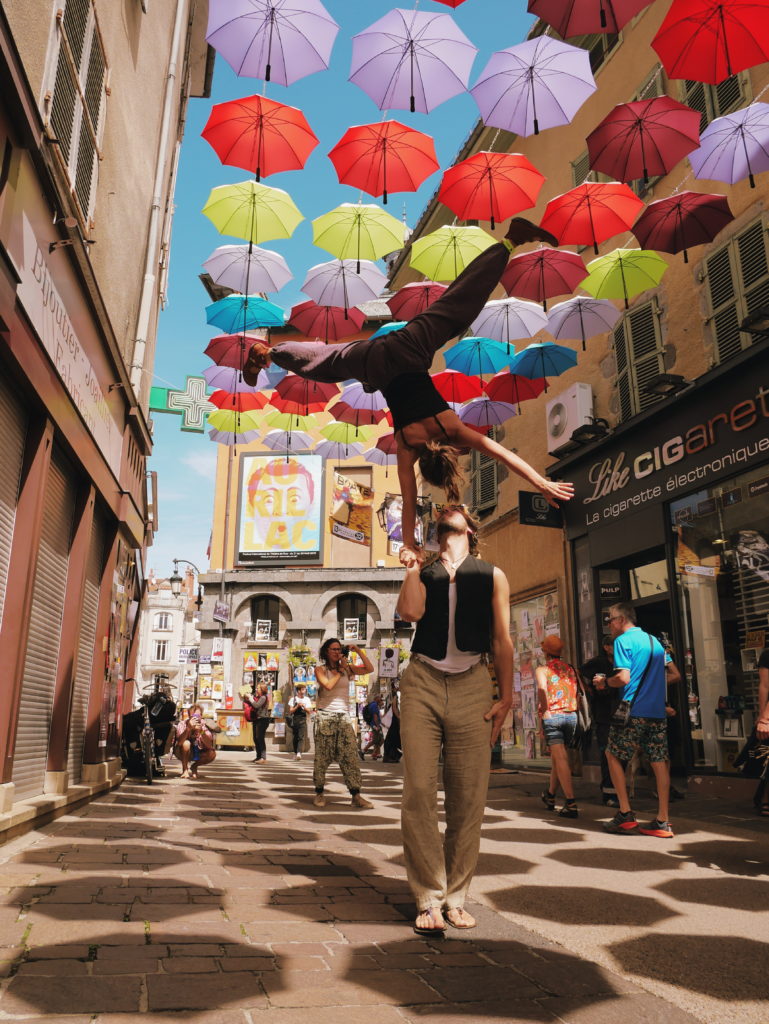 Felix loves connecting people into collective and artistic projects and processes. With friends and colleagues he started Jonglirium back in 2010 to support social circus music and theater around the globe. He studied circus and special needs education and is very grateful for a meaningful chance to combine his skills into projects that create opportunities and broaden horizons. He likes the space that circus & theater games and collective improvisation can create and what it does to a group perfoming together. He is a passionate acrobat & musician performing internationally with the FourStringCompany.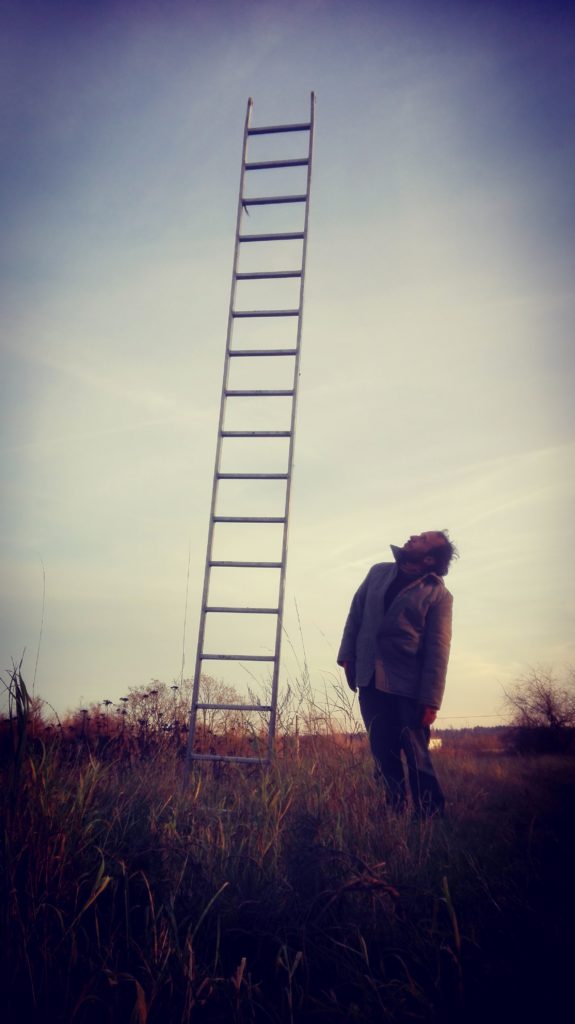 Musician, Clown, Street Performer, Acrobat, Bruno has a huge experience in itinerancy and nomadism. He has toured for almost 10 years with nomad com-panies. He works clown for individuals and improvisation for groups in all three practical levels: directing, performing and coaching. He participated to the research-action of Ser'p'art in the field of collective improvisa-tion in the public space and worked on this topic with many directors (Loco Brusca, Jango Edwards, John Melville, Jef Johnson, Juan Carlos Muñoz…). In his interest for the physical body on stage he also trained contemporary dance, butoh, acroyoga, standing acrobacy, thai massage and vegetarian cooking. More on: www.nomadbrunomad.wordpress.com/acerca-de/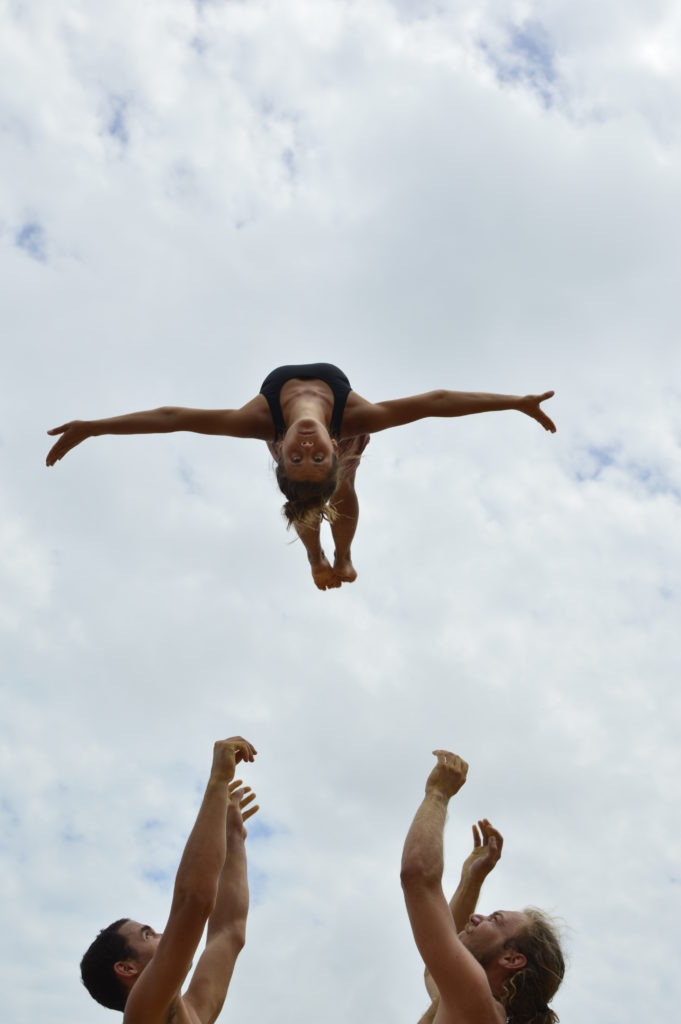 Maxi started training partner acrobatics in her early childhood. And she is still going strong! Together with music and dance she loves to discover possibilities in interdisciplinary performances. She studied special needs and music education in Halle (Saale) and continuing education in acting, physical theatre, clowning and dance (contemporary, floorwork, contact…). In 2021 she graduate at the Anfibia Program in Bologna. She collects experiences in different productions as dancer, actor, puppertry, musician and acrobat. Since 2014 she works freelance as a performer and circus pedagoge (Maxita Vita). In 2016 she founded The Four String Company – a musical partner acrobatics duo – together with Felix. At the moment she is researching about the voice in movement and further the use and meaning of german folk music in circus.


Our planned activities and input include:
Daily handstand training & conditioning
Daily partner acrobatics input
Research on physical games, floorwork, dance
Working on stage presence, solo & in group
Group improvisation and physical theatre
All leading to a show that we'll perform together at the end of the project!
Other than that there will be some space for you to share your skills and experiences. Some of the time will be organized as open spaces which we can fill with our own activities and research.
Where?
The project will happen from 19th July (arrival) to 1st of August 2023 (departure) at GutAlaune just outside of Halle (Saale) Germany next to the river Saale. It's a project and living space just outside the city that we're setting up since the beginning of 2016 – so some stuff is a little improvised.
Have a look for some impressions of us setting up the place here!
And be sure to check out the video of one of the trainings here to get a feeling of the vibe of the place in project mode.
Sleeping will be in your own tents so please bring tents, sleeping bags, isolation mats and whatever you need to feel comfy outdoors. Please note that we will spend a lot of time outdoors, and summer in Germany can be quite cold so bring some woolen sweaters/socks, rainproof shoes & jacket, some technical outdoor clothes might be useful if the weather goes bad. If you have trouble arranging this or you can't fit it in your luggage contact us ahead of time. We have hang out space in case of bad weather, but we hope to be mostly outside.
There is an outside kitchen and lounge area, two outside showers and toilets and there is a river right in front the space as well to cool down from the heat of the training.
We will have a cook preparing delicious vegetarian meals for us and will divide tasks to help with cutting, cleaning, the dishes and such.
Important note: We don't have a fast WIFI here on site – so make sure you have roaming or get a German Sim Card with internet if you want to stay connected. Also we ask you to check if your personal care products are compostable (check with your products customer hotline) – we're running an ecological wastewater system. We have basic products (shampoo, soap) in store which you can purchase at the venue.
Travel costs & participation fee
We can cover your travel expenses (up to 210€ for participants traveling from Germany! For France, Italy, Spain, Sweden, Poland and Slovenia up to 320€!)
Please note that since we would like to make this training course planet-friendly and decrease the amount of carbon emissions that will be produced by a lot of people travelling, we came up with travel costs reimbursement system which is as follows:
-If you travel by bus or train or boat you get 100% of your travel costs reimbursed.
-If you travel by plane or alone in the car you get 50% of your travel costs reimbursed.
-If you travel in a car with one more person you can 75% of your travel costs reimbursed.
-If you travel with at least 3 people in the car (you included) you get 100% of your travel costs reimbursed.
We and our partners will provide support in connecting you with other participants from your country, so you can plan your travel together.
We ask for a fee of 50€ for this two weeks training which will be substracted from your travel expenses (e.g. if you spend 210€ on transport we will transfer 160€ to you after the training).
Food, trainers and accommodation are free.
Feel free to contact us if anything is unclear, you don't know how to master the german Railway-and-Bus–Jungle or you need to do something differently.
Contact & Application
Apply here until 31st. of March 2023:
https://datengarten.allmende.io/apps/forms/EZoYWWMzk5QJcifL
You'll here from us until End of April.

Please, address your questions about this project to this email:
marta@jonglirium.com


This course was supported through the Erasmus+ Youth in Action programme, Key Action 1, Mobility of youth workers.
If you wish to learn more about the programme and its opportunities, have a look here: https://erasmus-plus.ec.europa.eu/opportunities