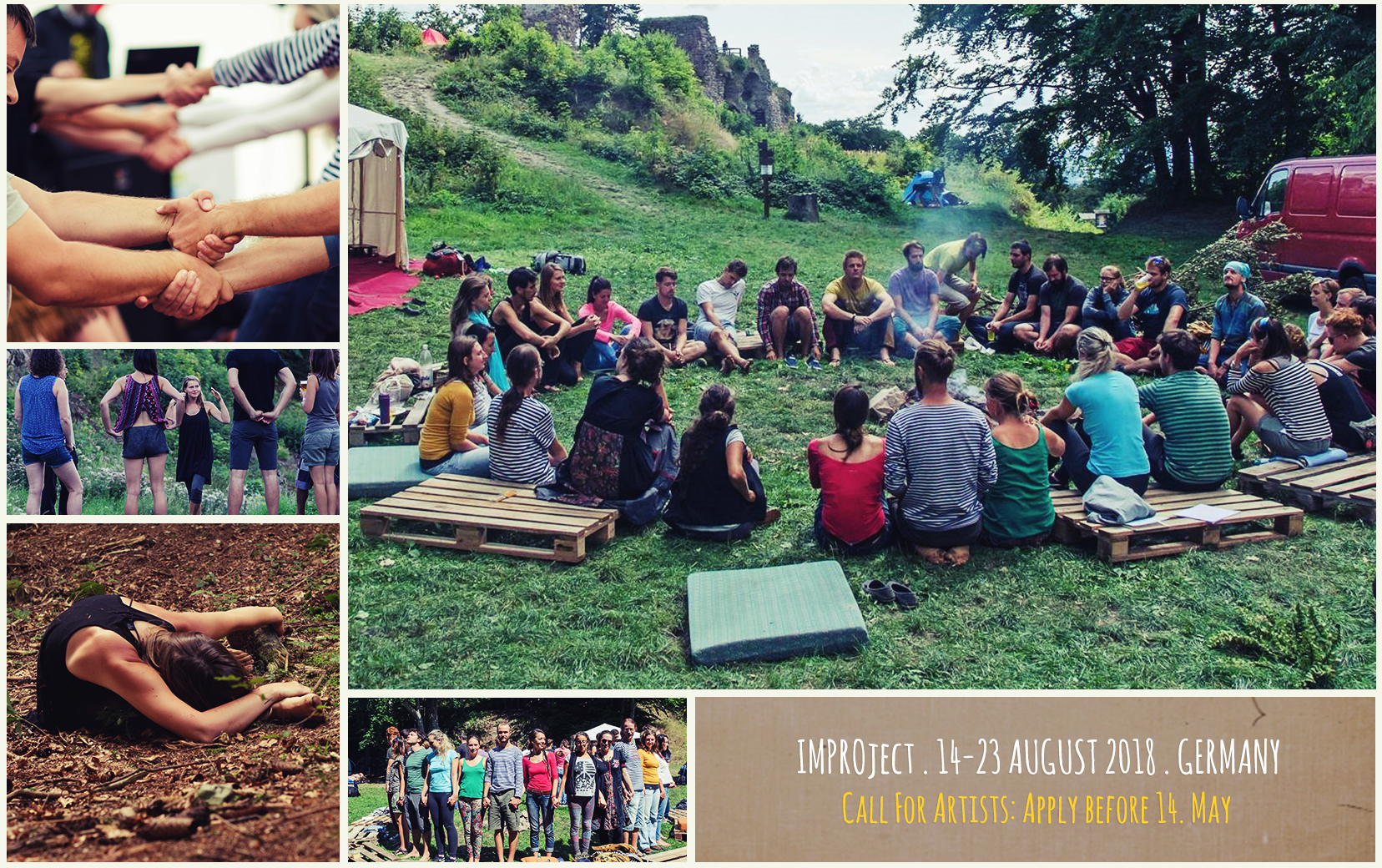 Internationaler Training Kurs: Jugendarbeit und Improvisation
Das Projekt und die Projektbeschreibung sind in englischer Sprache – kontaktiert uns wenn ihr Übersetzungen braucht.
Ein Blick in, hinter und zwischen Kulissen des Trainings:
Have a look inside the training! Time went flying by… it's harvest time check out the pictures and videos as well as the website created to collect all the treasures from the course!!
and now silence please for the show:
International Training Course on Improvisation and Youthwork! Learn to (re)act naturally!
From the 14th to the 23th of August 2018 in Halle (Saale), Germany.
IMPROject is a 8-day training course which aims to introduce and explore principles of "improvisation" and experiment with practical and fun tools and techniques that can be readily used in daily life, creative work and in the other situations and places too.
Training own awareness, acceptance and sense of initiative can improve the quality of our days and the things we do. We will learn how to jump into the unknown and to respond properly to the needs of the diverse people and situations we are working with.
Why improvisation?
Improvisation serves to strengthen one's confidence in himself and in his skills and abilities. It allows participants in training to experience visceral, 'in the moment' practice within an overtly reflective and supportive environment.
Furthermore, improvisation encourages one to actively seek the unfamiliar, rather than simply learn to cope with it. It also represents a more fitting response to the complexity of human relations in which youth workers operate and thereby help to preserve the integrity of process-based practice.
Who is this training for?
The training was designed for youth workers, volunteers, activists and other people who work with people, who want to refresh their skills and attitudes to their days, to other people, to work and to the world.
We aim to have an overall number of 25 participants from the following countries:
Germany, France, Portugal, Czech Republic, Italy and Bulgaria.
The participants must be over 18 years and have a communicative level of English language, so that they can participate fully in a program that will be in English.
This training is for you, if you…
w

ant to explore and experiment with specific tools from non formal artistic fields (theatre, dance, creative expression),

can survive joyfully 9 days in a tent and in close contact with nature and other people,

are willing to actively participate in community building practices (preparation of food, taking care of the venue and the group…),

can adapt to a program that goes with the flow (of nature, of the group, of the environment),

are open to sharing your own skills and learning the skills of others,

are motivated and willing to commit to work on the objectives of the training course and participate in the whole duration of the project

(preparation, training course, follow-up activities)

.
What will you be doing?
During the training you will be:
collecting new inputs

and inspiration that renew motivations to act with commitment and new ideas.

refreshing curiosity and playfulness

in approaching your work in order to prevent burning out.

improving your trainers' skills

to be more efficient, adaptable, responding to issues and demands in your work.

widening your perspectives

and points of view to see new opportunities, create new patterns, and avoid situations of stalemate when working with people with different cultural background.

gathering specific tools

from non formal artistic fields (theatre, dance, creative expression) that are not easily accessible for all the youth workers.
By training your own awareness, acceptance, sense of initiative you can improve the quality of your actions. We wish to support you in finding ways to more efficient and creative approach through improvisation – by developing your skills to be fully present, listen, accept and act, by equipping you with new improv based tools that you can later on use in your practice.
Working methods
We will be exploring the principles and techniques of various improvisation-based methodologies. From theatre improvisation and contact improvisation activities, going into more subtler improvisation with rhythm, music and dance, closing with creative storytelling.
The dramaturgy of the program, the red line connecting above mentioned activities, was developed around the U theory of Otto Sharmer. It will guide us through a process that helps break through past unproductive patterns of behavior. The course will also have a strong component based on the sharing of ideas, opinions, experiences and best practices, so if you consider joining the training, start thinking of some activities, you would like to propose.
In the 10 day together, we will move, talk, listen, try, fail, try again and succeed. All in random (improvised) order. Also, bear in mind that no artistic or impro skills are needed to attend the training.
The team
Antonio Cargnello – Antonio is an appassionate trainer who loves to craft experiences for self development, group awareness, creative expression and pursuit of a wise and joyful freedom. He regularly facilitates workshops, for teenagers, students, youth workers and adults, using and mixing his expertises and experiences from theatre, contact impro, contemporary dance, martial arts and clowning.
More about Antonio:http://tinyurl.com/AntoProfile
www.teatroinvisibile.it
Jana Stara – Jana guides people to their more joyful and satisfied versions of themselves. She teaches at university, facilitates trainings in forests and in the meantime enjoys contact and theater impro elsewhere. As a wellness coach and experiential trainer she sees body in/and movement as an endless source of well-being and creative ways to "feel good and grow".
More about Jana:http://tinyurl.com/JanaProfile
www.wellcome.cz
Andrej Dobes – Andrej is naturally curious kid exploring the universal magic of life on his travels around the world and in different roles in multi-culti educational youth projects and initiatives. His main passion and mission is experimenting with different methods and tools and trying to bring "mind-fool" and playful approach into youth work through nature, mindfulness and movement based activities.
More about Andrej: https://tinyurl.com/AndrejProfil
https://tinyurl.com/AndrejLinkedIn
Jonglirium e.V.
The training is hosted by Jonglirium e.V., an organisation supporting sustainable circus, music & theatre around the globe…
Dates and logistics
THE LOCATION
The project will happen from 14th (arrival) to 23th of August (departure) at GutAlaune just outside of Halle (Saale), Germany next to the river Saale.
GutAlaune is a community project and living space just outside the city that was founded the beginning of 2016 – watch the video from a previous project to get an idea:
https://www.youtube.com/watch?v=VyBQA_us0mg&t=292s
ACCOMODATION
Sleeping will be in your own tents, so please bring tents, sleeping bags, isolation mats and whatever you need to feel comfortable outdoors. If you have trouble arranging this or you can't fit it in your luggage, contact us ahead of time.
Our training spaces will be in a 10m circus tent or mostly in the outdoors. In the area there are many creative and natural spaces to explore and enjoy.
We will be using a common house with kitchen and living area and a porch to hang out in bad weather.
Please, bear on mind the natural community setting of the venue: the will be outside toilet and showers. For true outdoor people, there is a river right in front of the space as well to cool down from training.
FOOD
We will have a cook preparing delicious vegetarian meals for us and will divide tasks to help with cutting, cleaning, the dishes and such.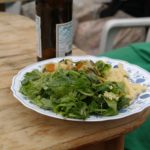 Important note: There is no Wi-Fi in the venue – so make sure you have roaming or get a German Sim Card with internet, if you want to stay connected.
Costs
The travel costs of the participants will be refunded after the training course (after participants send all their travel documents etc.) to this maximum amounts:
Germany, Czech Republic – 180 EUR
France, Italy and Bulgaria – 275 EUR
Portugal – 360 EUR
Participation fee: Money shouldn't be the only obstacle against your participation – therefore we suggest a sliding scale from 40 to 100€ for participation fee. We want to give you the possibility to self-evaluate how much you can contribute financially, and how much you consider a fair fee for 8 days training programme.
The training course has been created with support from Erasmus+ programme. For more information have a look here: http://ec.europa.eu/programmes/erasmus-plus/index_en.htm
Application procedure and deadline…
If you want to participate in this training course, please, fill in the application form available at this link:https://jonglirium.typeform.com/to/gvMWnC
The deadline for applications submission is 14th May 2018 (included).
The selections results will be published on 28th May 2018.
Contact
Please, address your questions to this email:
+49 17670181249


This course was supported through the Erasmus+ Youth in Action programme, Key Action 1, Mobility of youth workers.
If you wish to learn more about the programme and its opportunities, have a look here: http://ec.europa.eu/programmes/erasmus-plus/node/32_en.